Need a service?
We can repair your broken phone, camera, notebook, printer and more.
Choose your brand
Frequently asked questions
COVID-19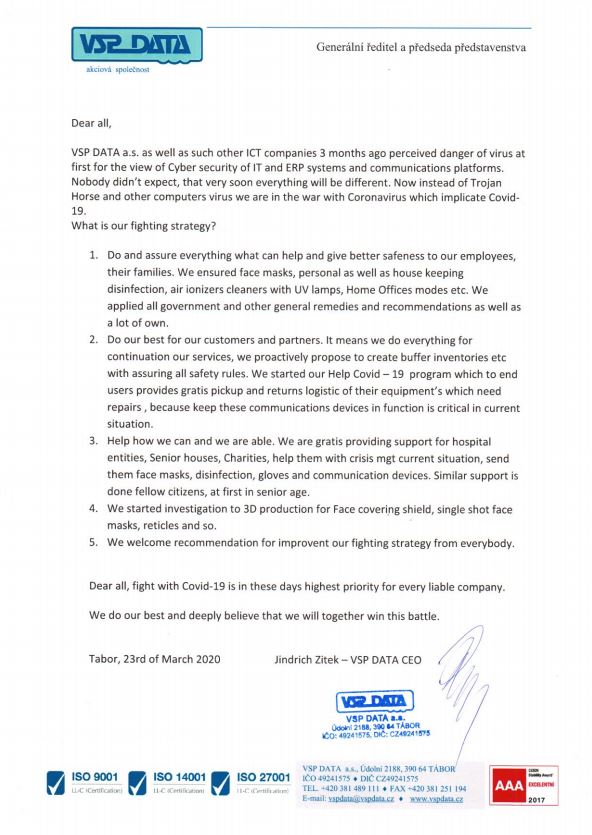 COVID-19 HELPING
Dear customers,
We would like to inform you that VSP DATA a.s. continues to service your equipment. We make sure you have them repaired and functional as soon as possible and that you can use them.
We are ready to pick up your equipment free of charge through the shipping company and deliver it again for free after repair.
More information about the collection can be found on the customer support page, or please call 381 489 800, or email support@vspdata.cz.
COVID-19 WE FIGHT
Just three months ago, in VSP DATA, we perceived the danger of being infected by a virus - like other companies in the industry - primarily from the perspective of a cyber threat to information systems and communication platforms. Few, if any, could imagine how quickly everything would be different. Instead of Trojan horses and other computer viruses, we are all now fighting a new type of coronavirus that causes COVID-19.
What is our combat strategy? We care about health, we try to protect our employees and their families as well as our customers in the best possible way.
In parallel, we help where we can. And so these days - after we have equipped our workers in all operations - we provide, as far as possible, protective equipment, masks, respirators and disinfection for hospitals, pharmacies, retirement homes and the like.
COVID-19 PROGRAM
We know how important it is to keep in touch with your family and loved ones and have access to information, especially in the current situation. Keeping equipment not only functional for these purposes is what we do and know. Due to security measures, we had to limit the direct takeover of broken equipment from our customers and a number of smaller services remain closed.
To combat the pandemic, we are launching the COVID-19 program, which offers free collection and return of phones, computers, printers, televisions, cameras, navigation and everything we repair at any functional address within the Czech Republic. We hope that we can help you at least a bit at these times.
Regards,
Ing. Jindřich Zítek, General Manager of VSP DATA a.s.
Can you be our next satisfied customer?
6 953 640
Repaired printers
1 417 549
Repaired phones
124 311
Repaired notebooks
131 639
Repaired cameras
64 119
Repaired tablets
18 835
Repaired projectors